TERMS AND CONDITIONS
Students need to give at least 48 hours to cancel a driving lesson without being charged. Students will be charged full lesson price if they cancel a driving lesson in less than 48 hours.
Students need to contact Kevin Haynes on 539597 or 07866410387or by email at smartdriveisleofwight@yahoo.co.uk to cancel a driving lesson
Intensive driving courses are only a rough time of recommended hours and are not an exhaustive amount and many students may need more hours than the hours they have paid for depending on their ability, punctuality and where they live and their willingness to travel to the test location.
FAQ'S – FREQUENTLY ASKED QUESTIONS
The Theory Test
The Theory Test (costing £31)
There are two parts to the theory test.
The multiple choice question.
Hazard perception part.
The Multiple choice questions
This part is a computer based exam consisting of 50 questions of which you need to get 43 correct in 57 min.  If you have difficulties in reading the questions you can apply to have a voice over function  and can be awarded up to double the allotted time.
Our theory package also has a voice over function for which many of our students find a big help.
Hazard perception part
There are 14 clips and 15 developing hazards.  On a small portion of the clips there will be 2 developing hazard in the same clip but the rest only 1 hazard per clip.  There are also other non scoring hazards in the clips which you should click for which will help prepare you.
The test costs £31 and our test centre is in Newport Isle Of Wight
Address:
Pearson centre- Newport- isle Of Wight
Pearson Professional Centres
48 Lugley Street
Newport
Isle Of Wight
PO30 5HD
You can book your theory test via these methods
https://www.gov.uk/book-a-driving-theory-test
DSA booking support
Telephone:             0300 200 11 22      
Textphone:             0300 200 11 22      
Monday to Friday, 8am to 4pm
You'll need your:
Great Britain or Northern Ireland provisional driving license number
Email address to get your booking confirmation – you can't book online if you don't have one.
The Practical Test
What happens in the test

You'll have to read a number plate from a distance of:
20 metres for vehicles with a new – style number plate
20.5 metres for vehicles with an old – style number plate
You can write down what you see if you can't speak English or have difficulty reading 
Vehicle safety questions: 'show me, tell me'
You'll be asked 2 vehicle safety questions. These are also known as the 'show me, tell me' questions.
The examiner will ask you one 'show me' question, where you'll have to show them how you'd carry out a vehicle safety check.
You'll also be asked one 'tell me' question, where you'll have to explain to the examiner how you'd carry out the check.
The driving ability part
The driving part of your test will last about 40 minutes. Throughout the test your examiner will be looking for an overall safe standard of driving.
Your general driving ability
During your test the examiner will give you directions that you should follow. You'll drive in various road and traffic conditions. You should drive in the way your instructor has trained you.
It should include:
normal stops
an angle start (pulling out from behind a parked vehicle)
a hill start
You might also be asked to carry out an emergency stop.
Reversing your vehicle safely
You'll have to show how well you can reverse your vehicle. The examiner will ask you to do one of the following exercises:
reversing around a corner
turning in the road
reverse parking – either into a parking bay, or parallel parking at the side of the road
Independent driving section
Your driving test will include around 10 minutes of independent driving. It's designed to assess your ability to drive safely while making decisions on your own.
If you make mistakes
Carry on if you make a mistake, because if it's not a serious mistake it might not affect your result.
Your examiner will stop your test if they think your driving is a danger to other road users.
Taking someone with you
Your examiner will ask if you want your instructor, or another person, to:
sit in the back of your car during your driving test
be with you after the test for the result and feedback
This person will usually be your driving instructor, but it could also be a relative or friend.
They must be over 16 and can't take any part in the test.
The examiner's supervisor
The examiner's supervisor may come along as well. They will be watching the examiner's performance, not yours. The supervisor won't have any say in how you're tested or in your result.
Your test might be cancelled and you could lose your fee if you don't let the examiner's supervisor go with you.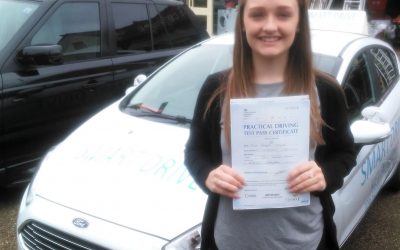 I felt like my previous instructor didn't quite understand how nervous I was and I just I had to get on with it. I feel that things could have been gone through a bit better. I think the methods were very good and everything was always explained very well and kevin...

Learn to Drive on the Isle of Wight
Kevin has been a driving Instructor for 10 years and has developed his skills over the years with the latest coaching techniques and has trained with some of the top Instructor trainers in the country.

Fastest Way To Pass Your Test
Doing 1 hour a week is NOT the most cost efective way to learn to drive, regular Lessons means less things forgotten, you will need less lessons and pass quicker.